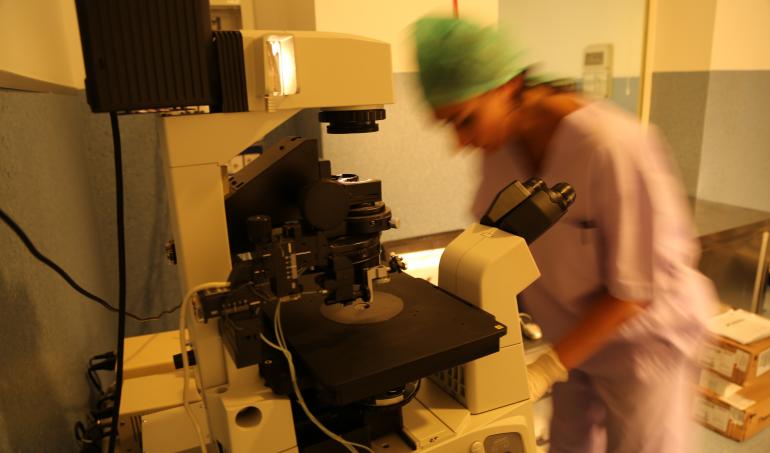 Development of an optical system based on the combination of holographic imaging and Raman spectroscopy useful to evaluate biochemical, molecular and morphological alterations alteration in living sperm cells.
The diagnosis of male infertility is vastly complex. To date, morphology (membrane integrity, presence of defects etc.), motility and concentration have been used as key parameters to establish the sperm normality and achieve pregnancy both in natural as well as in assisted fertilization [Auger2000]. However, spermatozoa from infertile men could present a variety of alterations, such as DNA fragmentation, alterations of chromatin structure, aneuploidy, that has been demonstrated that decrease reproductive capacity of men. Current methods of DNA assessment, such as TUNEL, COMET, sperm chromatin dispersion (SCD) test, sperm chromatin structural assay (SCSA), are of limited clinical utility as they render the sample unusable. Therefore, the ability to see detailed relationships between morphology and functionality with sub-micrometric resolution in a non-destructive and non-invasive way and within a functional correlated context could bring greater understandings. This approach is extremely important for the intracytoplasmic sperm injection (ICSI) procedure, where it is highly required the development of a new method that allows characterising and direct selecting the best spermatozoa to inject into the oocytes.
The development of the combined optical approach would give additional information, allowing accurate and non-destructive diagnosis of spermatozoa alterations and increase the objectivity of assessment. The potential scientific benefits include the generation of novel information through optical fingerprinting of cells and the application of that information to the selection of spermatozoa.
The team has already developed innovative methods based on holographic imaging for 3D morphological and motility tracking of spermatozoa or Raman approaches for identification and sorting X- and Y-bearing bovine spermatozoa [De Luca2014]. Our approach combines innovative physics to capture appropriate image/spectra with appropriate links to biomedical and clinical personnel for fast and accurate translation to clinical problems.
---
---